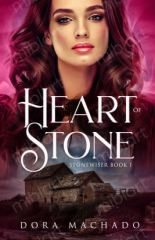 Purchase The Heart of the Stone from:
ISBN: 978-0-9799682-0-4
Winner of the 2009 Benjamin Franklin Award for best Debut Novel
Finalist for 2009 Foreword Book of the Year Award for SFF
As a Stonewiser, Sariah can read the stories hidden deep within the sacred stones.
She has the power to witness the past and change the future.
But when she discovers dangerous lies that have been interwoven with the truth in the stones, she is forced to turn to her enemy: a man who is as intoxicating as he is powerful…
Her world won't ever be the same again.
---
Between truth and deception, between justice and abuse, a stonewiser stands alone with the stones. Or so begins the stonewiser's oath. But what happens when a rebellious stonewiser discovers that lies have tainted the stone tales?
In a world devastated by the rot's widespread destruction, only the tales preserved in the stones can uphold the truth and defend the Goodlands. In this world, stone truth is valued above anyone's word, and stonewisers are the only ones capable of retrieving the tales from the stones, the only link between past and present, order and chaos.
Sariah is the most gifted stonewiser of her generation, but her talent does not atone for her shortcomings. A survivor of the Guild's brutal training, she is curious, willful and disobedient. Yet not even Sariah is prepared for what she finds when she steals into the Guild's Sacred Vaults: A mayhem of lies and intrigues that shatters her world.
Hunted, persecuted, and betrayed, Sariah must make an unlikely alliance with Kael, a cynical rebel leader pledged to a mysterious quest of his own. The fate of their dying world depends on their courage to overcome centuries of hatred and distrust. But not even the grueling journey has prepared them for what they are about to discover. Because nothing is really as it seems, and the truth is more intricate and devastating than they ever suspected....
Reviews:
Stonewiser is a finely crafted fantasy with unique concepts, and a vivid living world that will draw readers in and not let go.
Midwest Book Review (Reviewer's Choice Selection)
Machado gives fantasy a fresh spin with her entertaining debut. The story is told from the point of view of Sariah - a heroine who is flawed but prevails nevertheless. Set against a vivid and well-drawn background, the plot combines elements of politics, corruption, intrigue and romance. There are twists, and Sariah is forced to make some complicated choices before it all reaches a satisfying conclusion - 4 Stars
Romantic Times Book Review
A legitimate page-turner, it is the innovative premise of the novel that initially hooks the reader….Machado has a strong voice and original and inventive ideas. It's not often that a debut novel can so transfix a reader simply on the basis of its crispness and enchanting literary charm.
The Clearwater (Fl) Citizen
This touches on one of the strengths of the novel - that it is both plot driven - as well as an intimate portrait of a young woman's painful journey toward maturity... This is a page turner with heart and deserves to find a wide readership.
www.sffmedia.com
Machado's writing is as competent as her characterization, being vivid and often poetic. The plot itself is well devised and generally moves along at a good pace...There are quite a few surprises… I was surprised to find that the novel was often a little darker than I expected, and there are one or two quite brutal moments that add a nice (dare I say it) gritty feel, without coming across too heavily. Machado's world also comes across well in her writing.
www.speculativehorizons.blogspot.com
Once in a while, a new fantasy/adventure comes out that doesn't travel well-worn paths in the genre but instead gives us a vivid new world, an exciting set of original characters, and page after page of non-stop intrigue, action, twists, revelation, and fun. Stonewiser is the best to appear in years.
Barnes & Noble review
Folks who enjoy fantasy novels will devour this new series.
Clinton (Okla) Daily News
An original plot that is brought about by excellent writing and characters. A perfect choice for any fantasy or romance lover. I can't wait for the sequel.
Listmania
Book Club Questions:
In Stonewiser's fantasy world, the stones are the last reliable repository for memories, information and truth. Do you find any parallels and/or contradictions between the concept of the stones and the means and ways that we use today to disperse, gather and understand information? Read More