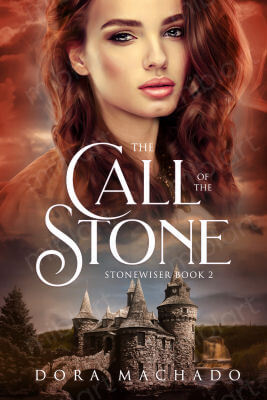 Purchase The Call of the Stone from:
ISBN: 978-0-9799682-2-8
Winner of the 2010 Independent Publisher (IPPY) Gold Medal for SF/F
Finalist for the 2010 ForeWord Book of the Year Award for SF/F
Sariah's reward for revealing the stone truth is a death sentence.
Banished and on the run, Sariah must find a way to carry out the stone's mystifying legacy, before the executioners murder her kin, her enemies slaughter her lover, and the mysterious bracelet she has been forced to wear kills her.
---
The executioners have arrived and Sariah, the most powerful and controversial stonewiser of her generation, has been judged and condemned to death. For the last few months, Sariah has been hiding in the Rotten Domain, trying to find the elusive tale capable of uniting a divided people teetering on the brink of a catastrophic war. As she is dragged to the nets, where an eel rave has been stirred to maximize her execution's gruesome spectacle, Sariah knows she cannot escape her sentence. She is guilty of the crimes for which she's been condemned and no one, not even Kael, the Domain's foremost rebel leader, can save her from the executioners' righteous justice.
But Kael is more than just a formidable warrior; he is also a cunning strategist and Sariah's steadfast lover. Risking all he has, he bargains with the greedy executioners, bribing them into delaying Sariah's execution, buying her precious time and a last chance to realize the mysterious legacy that the stones have imposed on her. The agreement is hardly a reprieve. It encourages a mob to hunt Sariah for ransom, banishing her from the Rotten Domain and imposing heavy fines on anyone who tries to help her. Worse, it requires her to wear an irremovable, mysterious bracelet. If she doesn't return to the executioners with the tale in hand when the allotted time expires, Kael and his kin will be ruined and the bracelet will kill her.
Hunted by the executioners, the Guild and the Shield, Sariah and Kael embark on a desperate search. Their journey will take them to the depths of the Rotten Domain, where Sariah must wise a guiding beam out of the wild tale stored in a stone-carved game. The beam will lead them through the warring Goodlands—where the rot is on the move—to the land beyond the Bastions, where a zealous people guard an ancient stone that could hold the key to their search. Along the way, Sariah and Kael must overcome deadly traps, torture, heartbreak, agonizing defeat and devastating losses in a desperate attempt to avoid war and answer the mysterious call of the stone.
Reviews:
Author Dora Machado has created an entertaining fantasy novel with a unique premise… She has created a detailed world in which the heroine is strong yet appealing, reluctant yet capable, sensitive yet brave. This thought-provoking look into oppression, love, and what leads the human spirit to fight back will appeal to lovers of the fantasy genre. And the cliffhanger ending will have readers in line to buy the next book.
ForeWord Magazine
An imaginative and terrifying execution scene grabs you in chapter one and keeps the pages turning. Machado's descriptions are rich in detail – you'll feel the eels nipping at your toes – and her characterization is strong. Sariah is well developed and faces brutal conflicts in this story of adventure, politics and magic.
Romantic Times Book Review – 4 Stars
Machado has created a complex world, without reusing generic fantasy elements, even while using the standard hero quest motif. One of the few Hispanic women writing in this genre, she brings a welcome change to "boy finds sword/dragon/gem and sets off with dwarves/dragon/wizard/elves to slay evil king/dragon/wizard" storylines.
San Francisco Book Review
"Fantasy readers will not only relish the reading of this book, but will probably go back and read the first, if missed, and certainly look forward to the final book in the series."
Clinton (OK) Daily News
A strength of Machado's fantasy is the realism with which people and situations are handled…Machado achieves a furious forward motion in her writing by refusing to allow her characters to control situations. Their understanding of events, situations and people is almost always incomplete and no matter how careful the planning, events unfold unpredictably…it's testament to the author's commitment to a grim and gritty realism that she appears to refuse to resolve the story's complexity by resorting to a simplistic idealism…For all its magic and wonder, Machado's fantasy is not escapist, and despite the humour and elements of romance it's not for the faint-hearted. There's a commitment to reality in these pages that makes for grim and yet satisfying reading…ultimately this is intelligent, thought-provoking and entertaining fiction.
SFFMedia.com
Machado created some great characters and fascinating scenes. In fact, I enjoyed it so much, that I will be going out and picking up the first book in this series and am eagerly waiting for the third installment. So I guess you could say... I'm hooked. I now consider myself a lifelong Machado fan.
Withersin Magazine
An eerily compelling dark fantasy... A somewhat disquieting read which is insidious in its appeal... The author's deft touch at descriptions keep the reader enthralled and anxious to discover what new horrific experience Sariah will have to endure and overcome.
Goodreads
Dora Machado's second book in the Stonewiser series is "The Call of the Stone". She brings back Sariah and the detailed fantasy world created in the first book. But there is so much more. Machado writes with such energy that you can't help but get lost in this complex world of magic. It makes you think and feel for the characters as they fight their way through many adventures. For the fantasy lover, this series is a must.
Dan's Journal Review
Machado has created a extraordinary new fantasy series that will grab you hook, line, and sinker. The characters are unique, full of depth and vitality, and you either like them or you hate them. The world she has built is painted so richly, you won't want to miss a word. You're drawn in so deep, you won't want to let go until the final page. A fantasy series that will have you addicted in no time!
Wendy's minding spot blog
Book Club Questions:
When the story begins, Sariah is taken prisoner by the executioners, a tribe of people who make a living by executing criminals sentenced to death in the Rotten Domain. Do you think that a tribe of executioners is a useful or detrimental element for the Domain? Do you think that every society has a role/place for people such as these? Read More