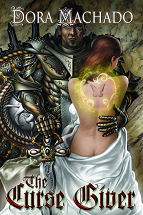 The Curse Giver
Winner of the 2013 Silver IndieFab Book of the Year Award
Finalist in the Fantasy category of the 2013 USA Best Book Awards
Finalist for the 2014 ForeWord Book of the Year Award for SF/F
---
A healer on the run. A condemned lord pledged to kill her. A land torn apart by war and intrigue. A terrible curse that can't be revoked, defused, or defeated.
Dare to meet the curse giver.
A fast-paced, plot-twisting fantasy packed with powerful characters who will challenge the tenuous boundaries between love and hate, good and evil, justice and revenge.
The Trailer
The Story
Lusielle's bleak but orderly life as a remedy mixer is shattered when her husband betrays her and the king's magistrate sentences her to die for a crime she didn't commit. She's on the pyre, about to be burned alive, when a stranger breaks through the crowd and rescues her from the flames.
Brennus, the embittered Lord of Laonia, is no white knight. He's trapped in a curse that has killed his kin and doomed his people. His only chance to defeat the curse is to find a woman bearing the Goddess's birthmark--and then kill her in the foulest of ways. Lusielle bears such a mark.
But before Bren fulfills his grim duty, he and Lusielle have to escape the king and journey to the sacred Island of Teos, where tribute is due and Laonia's free rule is about to be revoked. Lusielle has no choice but to travel with her would-be-killer until she can put her remarkable skills to clever use to escape both him and the tyrant king.
All of her plans go quickly astray. As Lusielle and Bren fight to survive royal persecution and the treachery of foes and friends alike, they must also battle the forbidden passion flaring between them. Stalked by intrigue and confounded by love, predator and prey must band together to defeat not only the curse obliterating their lives, but also the curse giver who has already conjured their ends.
Reviews
"Lovers of dark romantic fantasy will relish The Curse Giver. This was a wonderfully entertaining, absorbing read. The stakes are high, the conflict compelling, and the sympathetic hero and heroine will make you fall in love with them. But the best thing about the novel is the writing itself. Lyric at times, Machado's prose flows beautifully throughout the pages, bringing to life her fictional world in full, vivid detail."
-- Mayra Calvani, Midwest Book Review
"An Epic Fantasy Adventure that will keep you up throughout the night."
-- Tiffany, Book Marks the Spot
"I was immediately swept up in this enchanting world of magic, mystery, and lore. It was a page-turning and once I started, I could not put it down! The world-building was so vivid that it was so easy to get swept away in the fantasy."
-- Nikki McCarver, Close Encounters with the Night Kind
"Machado does an excellent job of switching seamlessly between the various points of view from the many strong voices in this book. Characters are plentiful in this complex and entrancing story."
-- Kathy LaMee, Tracy Riva Books & Reviews
"The story is very well told. The characters and the setting are both very thoroughly described. I felt like I was there watching the scenes play out."
-- Christina, Intoxicated by Books
"This is a fantasy unlike any other I have read in a very long time ... You may have noticed that I went missing one entire day--well this is what had me so occupied."
-- Miki's Hope
"I cannot tell you how much I enjoyed this book . . . and how much sleep deprivation I endured as a result ... Machado will keep you guessing. "
-- These Are But Shadows
"Once the action starts it doesn't stop. Literally doesn't stop. I had to put the book down a couple of times to catch my breath and sleep. ... The plot was interesting with intrigue, twists, gods, goddesses, myths, curses and lots of action. I was constantly on the edge of the couch hoping and praying things would work out in the end. ... Again, this is a dark fantasy/paranormal romance that was very hard to put down once I started it. Each character is relatable and with some subtle humor sprinkled in, I really liked it. It kept me on my toes and more than held my interest throughout. Here's hoping that Severo gets his own book someday."
-- Harlie's Books
"Dora Machado's The Curse Giver ... plunges us into a world so rich, and so well constructed, it feels almost as if we could step sideways into it."
-- Melissa A. Bartell, Bibliotica
"An epic fantasy, thrilling from page one. It's an edge-of-your-seat ride to an unknown conclusion ... I'd love to see this book brought to life on the big screen. I highly recommend The Curse Giver to readers who love fantasy, adventure, and captivating characters. Oh, and there's romance to boot."
-- Tia Bach, Mom in Love with Fiction
"I especially love the way the story ended ... I am not sure if there will be another book or not, but I bet it would be one heck of a book if there's one!"
-- Mary Bearden, Mary's Cup of Tea
"THE CURSE GIVER should appeal to fantasy lovers ... And for those that like a good romance, you might just find it here. Dora Machado has written another winner, so pick up a copy or add one to your eReader and spend the evening, lost in another world."
-- Beverly Stowe McClure, The Story of a Writer
"The Curse Giver is an action-packed epic fantasy with intriguing characters and fantastic world building ... a wonderful example of high fantasy, written with heart and intelligence."
-- Feed Your Fiction Addiction
"Dora Machado has written a book that met and exceeded all expectations. The world of The Curse Giver is alluring. The descriptions the author gives are amazingly realistic and paint a clear and vivid picture for the reader ... My favorite thing about The Curse Giver is that from page to page, I never knew what to expect. I was constantly kept guessing right to the conclusion."
-- Shut Up & Read
"Excellent story by Dora Machado that is brilliantly imagined and written. ... This is my favorite type of fantasy story--an entirely different world with its own elaborate customs, languages, religions. The plot is thick with intrigue and the adventure leaves the reader on the edge of her seat. A dash of romance and a lot of poignancy due to the curse and its backlash left me sighing like a love-sick maiden and wringing my hands in despair for Bren. Awesome book!!!!"
-- Cindi, Mommasez
"The book was awesome. A fast paced story that has a few twists and a curse? What's not to love?. ... I'm sure this story will keep you on the edge of your seat, as well as reading until the end."
-- Noelle Blakely, Share My Destiny
"Wow! As soon as I was reading the first chapter this book grabbed me! The way that the author has told the story has made it really come to life in my head ... Great fantasy elements, and it gets you guessing from the start!"
-- Laura Greenwood
"I have found myself a new fantasy author! For me, good fantasy has to have the following elements: phenomenal world building, engaging and multidimensional characters, and just plain great writing. This book has all of them."
-- Castle Macabre Blog
"I think I've found a new book to add to my (very long) list of favourites! I really really enjoyed this book. There were moments where I was worried about the chances of some of the characters surviving I will admit, and I was certainly rooting for the 'good' guys, the story just really dragged me in…This is a brilliant book, and any lover of fantasy would enjoy it. It struck the right balance of love story, action, magic and mystique for me, so glad I read it!"
-- Trips Down Imagination Road blog
---