5 Questions with The Dark Phantom
Hi everybody! I just did this interview for The Dark Phantom at http://thedarkphantom.wordpress.com/2013/07/11/5-questions-with-dora-machado-author-of-the-curse-giver/
Q: Tell us why readers should buy The Curse Giver.
A: If you like fast-paced, plot-twisting, epic, dark, and yes—why not?—romantic fantasy, The Curse Giver is for you. In a world teetering on the brink of war and destruction, three lives collide, bound together by a powerful, terrifying, undefeatable curse: an embittered lord at the brink of death, doomed by a curse he doesn't understand and tormented by a terrible secret; an innocent healer on the run, accused of a crime she didn't commit, bearing a mysterious birthmark that commands her murder; and the evil curse giver who has already conjured their ends. The stakes are high—peace, healing and freedom or war, madness and horrible death. Somewhere between love and hate and justice or revenge, redemption awaits those who dare to challenge the tenuous boundaries of good and evil.
Q: What makes a good fantasy novel?
A: Fast-paced action, thrilling adventures and rich imagination perfectly balanced by deep, complex and engaging characters, intricate plots, and transcendental relationships that matter.
Q: What is a regular writing day like for you?
A: I sit down to write sometime between eight or nine in the evening and write through the night. I go to bed anywhere between three and six and sleep the morning away. I get up around ten or eleven and spend the afternoon editing what I did the night before and taking care of the business aspects of writing. The best part: It's my schedule and I get to choose my office's dress code, which, by the way, is a notch below casual, super comfy. The biggest challenge: Talk about not being a morning person!
Q: What do you find most rewarding about being an author?
A: The amazing readers who come along in my adventures.
Q: What's the best writing advice you've ever received that you'd like to pass to other authors?
A: Write like the wind, write often, diligently and continuously, write for yourself and, my favorite, write all the way to The End.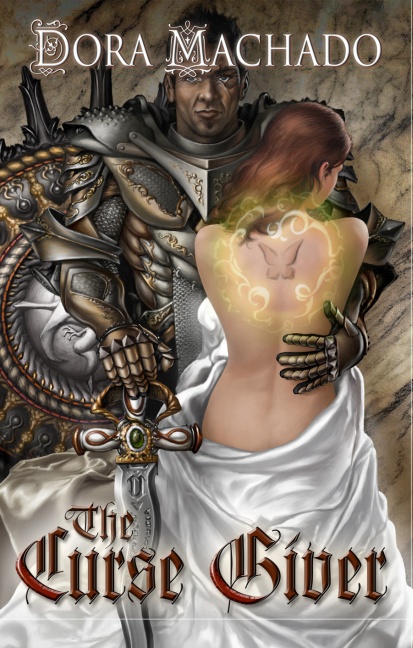 Now available at:
Amazon.com
http://www.amazon.com/The-Curse-Giver-ebook/dp/B00DSUQL4I/ref=sr_1_1?s=books&ie=UTF8&qid=1373559878&sr=1-1&keywords=The+Curse+Giver
Barnes & Noble.
http://www.barnesandnoble.com/w/the-curse-giver-dora-machado/1115929771
Romance eBooks
https://www.allromanceebooks.com/product-thecursegiver-1228818-143.html