By
Dora Machado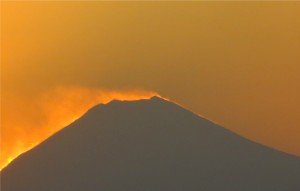 Mount Fuji at Sunset
We landed in Japan during a fiery sunset that promised beauty, adventure, challenge and reward. We were not disappointed. Traveling has always been a fundamental source of inspiration for my stories and my trip to Japan was no exception. It was an unforgettable experience, a journey that I will always treasure personally and professionally.
The journey lasted seventeen days and it took us to Tokyo, Kyoto, Osaka, Kobe, Nara, Kinosaki and Hakone-en at the foot of Mount Fuji. It's not easy to summarize my experiences in a single post, but here are five ways in which the trip was especially valuable to me as a writer and, of course, lots of pictures.
1. From the moment we set foot in Tokyo, I was struck by how gracious the Japanese people are. The majority of the people I met in Japan were poised, dignified and polite. I enjoyed the sense of propriety that permeated each contact. The contrast between the modern and the traditional was vivid, common and intense. I have a feeling that my character development skills will benefit greatly from my exposure to the Japanese people.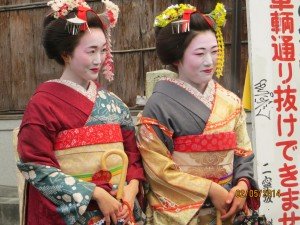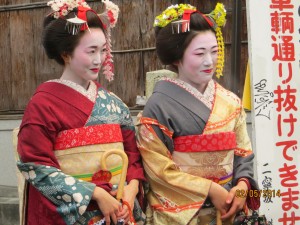 Geishas in Kyoto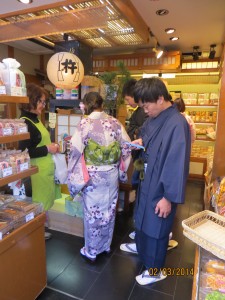 Shoppers in Tokyo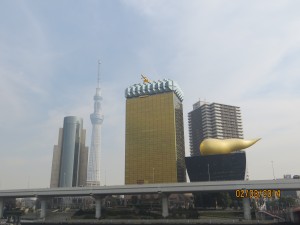 Tokyo's modern landscape, including the famous Sky Tree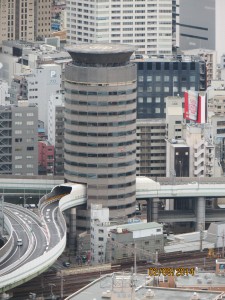 Osaka's modern landscape
2. Japan was a huge discovery session to my palate, so many new flavors, so many interesting tastes! Tokyo is full of amazing restaurants. I tried many new foods while I traveled throughout Japan. I made an effort to taste regional and national delicacies and had some amazing meals in the process. Yes, sure, I did have to stretch my comfort zone a few times, but on the upside, my writer's taste bank has been duly expanded.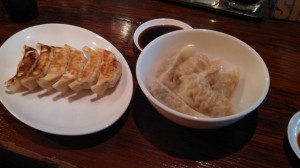 Delicious dumplings in Tokyo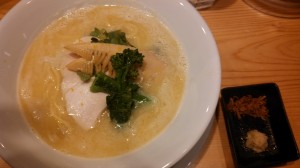 Out of this world Ramen, also in Tokyo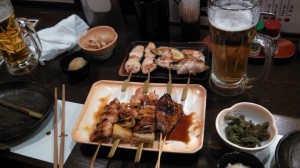 Awesome Yakitori, chicken skewers in Kyoto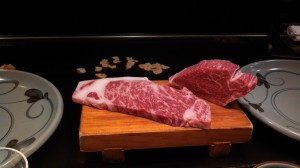 Melt-in-your-mouth Kobe Beef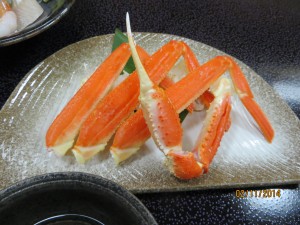 Amazing snow crab from coastal Kinosaki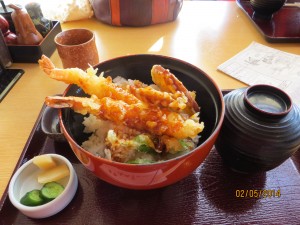 Crunchy shrimp tempura in Kyoto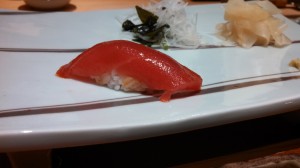 The best tuna Sushi in Tokyo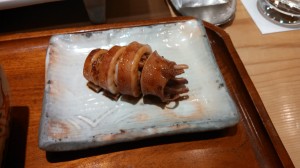 Out of my comfort zone: pregnant squid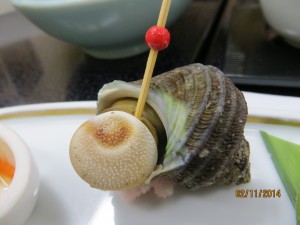 Out of my comfort zone again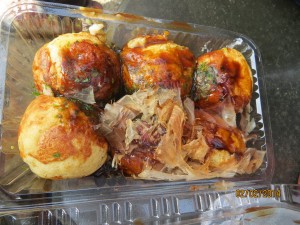 Takoyaki, octopus balls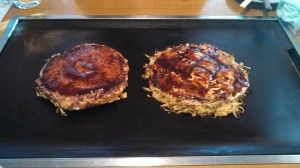 Okonomiyaki, savory Japanese pancakes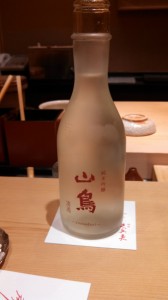 Sake: Excellent liquid courage
3. My trip to Japan reminded me that beauty is in the details. As I traveled through Japan's most famous and majestic sites, I realized that these places were beautiful not only because of their history, but also as composites of the striking level of detail. I started to think of these amazing temples and stunning gardens as novels, composed of chapters, paragraphs and sentences, enriched by the level of detail that history and art add to masterful craftsmanship.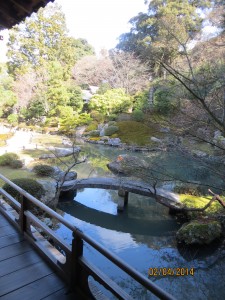 The exquisite garden of the Shoren-in Buddhist temple in Kyoto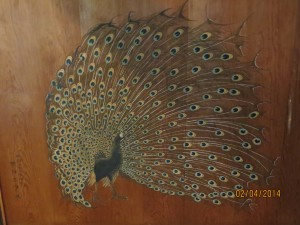 Gorgeous detail on a silk screen at the impressive Nijō Castle (二条城 Nijō-jō?) in Kyoto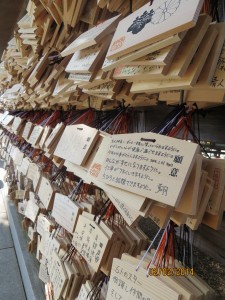 Prayer tablets at Meji-jingu, Tokyo's grandest Shinto temple
Carps swimming  in the pond of the Golden Pavilion in Kyoto, also known as the Kinkaku/Rokuon-ji temple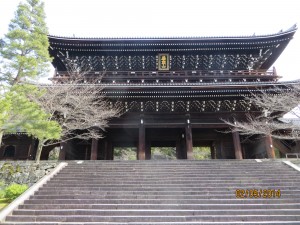 The Sanmon, the largest surviving structure in Japan, is the gate to Chion-in Buddhist temple in Kyoto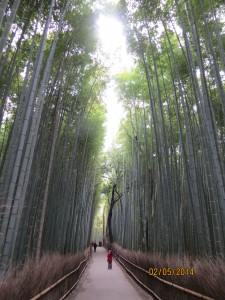 The  famous bamboo grove of Arashiyama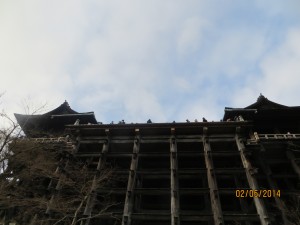 The balcony of the Kiyomizu-dera Buddhist temple, an impressive structure, rising on a hillside on huge timbers and offering gorgeous views of Kyoto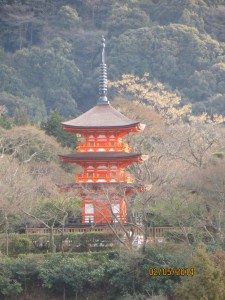 The Pagoda of the Kiyomizu-dera temple in Kyoto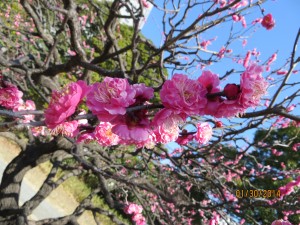 The cherry blossoms beginning to bloom at Tokyo's Hamarikyu Gardens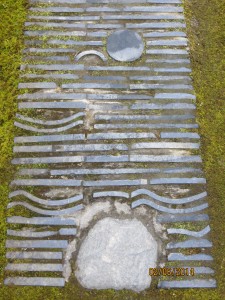 Every path was a work of art at the beautiful gardens of Okochi Sanso in Kyoto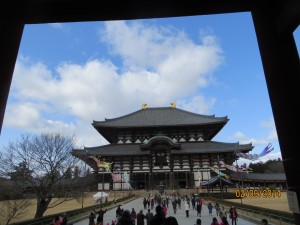 The Buddhist Temple of Todai-ji in Nara was one of my favorites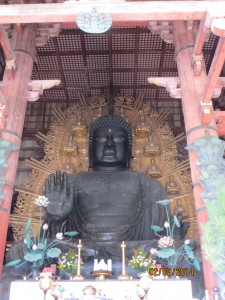 The giant Buddha of Todai-ji in Nara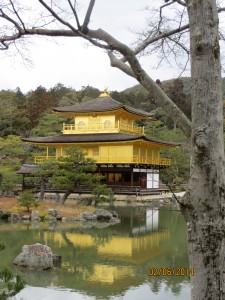 Kyoto's Golden Pavilion, also known as the Kinkaku/Rokuon-ji temple
Stunning!
4. My contact with the Japanese culture also reminded me that even in a modern world, rituals, small and big, are important parts of the human experience. Rituals have always been an important part of my stories. In Japan, ritual is an active part of many of the daily experiences. The very specific way in which an authentic Japanese breakfast is served in a ryokan (the equivalent of a Japanese inn or a bed and breakfast), the process of taking a bath in one of the many onsens (public bathhouses), and the traditional tea ceremony are just some of the rituals I had the opportunity to experience and appreciate while I was there.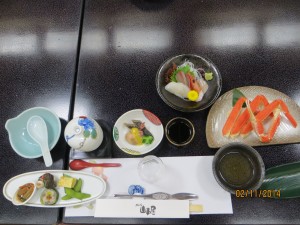 First course of our meticulously served dinner at our Ryokan in Kinosaki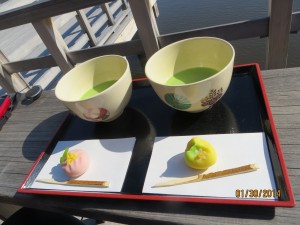 Tea and sweets during a beautiful afternoon in Tokyo's Hamarikyu Gardens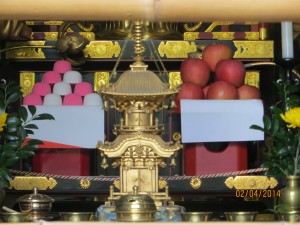 Detail of a Shinto Shrine in Tokyo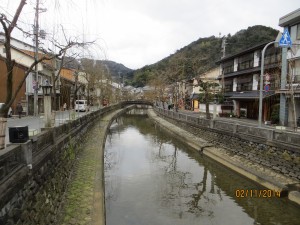 The town of Kinosaki has seven public baths or onsens
5. I also learned that efficiency is at the heart of a thriving society. Japan's public transportation system was incredible. From buses, to metros, to local and bullet trains, all of the cities I visited impressed me with easy-to-use, fast, reliable and extremely punctual transportation. Now if only I could write with the same speed and efficiency of a bullet train!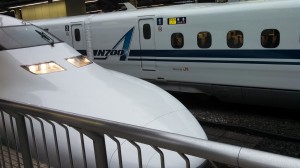 The Shinkansen, Japan's famous bullet trains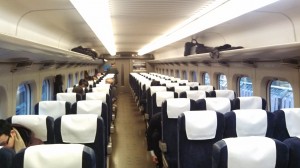 Inside view of the The Shinkansen, fast, clean and dependable.
During our last three days in Japan, we traveled to Hakone-en, where we got snowed in at the foot of Mount Fuji by one of Japan's worst blizzards in the last hundred years. With the roads closed and the snow piled high, we had no choice but to stay put in our hotel and reschedule our flight back to the United States. Very few guests populated the hotel, which is really a summer destination, and since we couldn't get out of the front door, there wasn't much to do. The experience of being trapped in the semi-deserted resort may have been inconvenient—not to mention expensive. The experience of writing non-stop with a stunning view of a snow covered Mount Fuji? Priceless.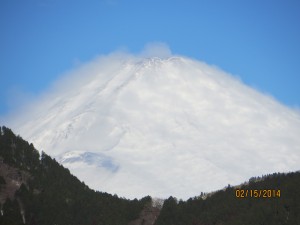 Mount Fuji from our balcony.
Want to know more about our trip to Japan? Visit http://marianaonthemove.com/
****
Dora Machado is the award-winning author of the epic fantasy Stonewiser series and her newest novel, The Curse Giver, available from Twilight Times Books. She grew up in the Dominican Republic, where she developed a fascination for writing and a taste for Merengue. After a lifetime of straddling such compelling but different worlds, fantasy is a natural fit to her stories. She lives in Florida with her indulgent husband and three very opinionated cats.
When she is not writing fiction, Dora also writes features for Murder By Four, an award winning blog for people interested in reading and writing, and Savvy Authors, where writers help writers.
To learn more about Dora Machado and her novels, visit her website at www.doramachado.com or contact her at Dora@doramachado.com.
For a free excerpt of The Curse Giver, visit  http://twilighttimesbooks.comthingsTheCurseGiver_ch1.html.
E-mail:Dora@doramachado.com
Website: www.doramachado.com
Blog: http://www.doramachado.com/blog/
Newsletter: http://doramachado.com/newsletter.php
Facebook: https://www.facebook.com/DoraMachado101
Twitter: https://twitter.com/DoraMachado