This is one of my favorite interviews that I've done this year. It asked some tough questions and it really made me think. It is reprinted with permission from:
http://reviewfromhere.com/2013/08/07/interview-with-dora-machado-author-of-the-curse-giver/comment-page-1/#comment-36989
Enjoy! D.
1. Could you please tell us a little about your book?
Of course! I'm very excited about my new fantasy romance, The Curse Giverpublished by Twilight Times Books. The Curse Giver is about an innocent healer called Lusielle, who is betrayed and condemned to die for a crime she didn't commit. When she's about to be executed, Lusielle is rescued from the pyre by an angry, embittered lord doomed by a mysterious curse. You might think that Bren, Lord of Laonia, is Lusielle's savior, but he isn't. On the contrary, Bren is pledged to kill Lusielle himself, because her murder is his people's only salvation.
What ensues is a dangerous journey, where Lusielle and Bren have to escape their ruthless enemies and unravel the mystery of the terrible curse that ails the lord of Laonia. They also have to overcome the distrust they have for each other, struggle with the forbidden attraction between them, and defy the boundaries between love and hate and good and evil to defeat the curse giver who has already conjured their ends.
2. Who is your biggest supporter?
My family, especially my husband, who was the one who encouraged me to seek publication. I don't think I would have ever undertaken the journey to publication without his support and encouragement.
3. Your biggest critic?
I'm my biggest critic! It's a heavy burden because I'm always questioning myself , but it's also an advantage because I'm driven to do more and better.
4. What do you feel has been your greatest achievement as an author?
Hmm, that's a tricky question. I think I would have answered this question quite differently a few years ago. When I first started writing, I measured achievement step by step, the first completed manuscript, the first full edit, the first acceptance letter, etc. Then came the day when Stonewiser: The Heart of the Stone, my first novel, was published and I remember thinking that it was my greatest achievement ever; that is, until it won the Benjamin Franklin award for best debut novel in 2009. I thought I was hot stuff then!
After The Heart of the Stone came two more award-winning novels. When I finished the Stonewiser trilogy, I was absolutely sure that completing the series was by far my greatest accomplishment. But then came The Curse Giver and here I am, once again, enjoying this moment but also redefining my concept of achievement.
You see, these days, I've come to realize that a writer's journey is not about a moment or a book. On the contrary, a writer's journey entails many moments, some lived far away from any sense of achievement other than the occasional appreciation for a well-constructed sentence or an awesome plot twist. To me, an author's accomplishments are not measured in terms of books, awards, sales, reviews or accolades. An author's accomplishments are defined by his or her ability to bring enjoyment to the reader. These days I feel most accomplished when I hear from a reader who has connected with my stories or who has been touched by my writing.
5. What do you feel is your biggest strength?
As a writer, I feel like one of my biggest strengths is plot design. I love an interesting, fast and complex plot that surprises with clever twists. I also feel like my characters come across real and vivid and that my stories are enriched by the quality of the relationships between the characters. But perhaps my biggest strength as a writer is the passion that I bring to both the craft and the story. It's a passion that sustains me and permeates every line I write and every character that inhabits my stories.
6. Biggest weakness?
That would be a long list! Self-deprecation, maybe? Seriously, now, let me think about that.  I think I'm shy and sometimes reticent to step into the public eye. I want to be writing all the time. I have been known to neglect my own blog or skip a FB post in favor of writing some more.
7. What do you feel sets The Curse Giver apart from others in the same genre?
The theme is a complete departure from the usual and a fresh take on magic and fantasy. The relationships are powerful, conflicted, deep and daring.  The world and the settings are diverse and inspired by my multicultural life experiences. The issues are neither white nor black but rather complex and nuanced. There's a lot or realism to my fantasy and I'm not afraid to mix a powerful, edgy romance with a truly epic fantasy story.
8. Is there anything you regret doing/not doing?
I wish I would have started writing my stories sooner!
9. What is your favorite past-time?
I love traveling and I find a lot of inspiration for my stories along the way. In fact, I was traveling through Peru when I was writing The Curse Giver. I also love hiking, despite the huffing and puffing, which might explain why I'm answering your questions at 37,000 feet on a jet bound from Colorado. Of course I love reading, but that's a given. My most favorite past-time involves spending time with my family.
10. Is there anything else you would like to share with us?
I want to thank you again for having me and giving me an opportunity to reach out to your readers. If you like fast-paced, plot-twisting fantasy, epic, dark, and yes—why not?—incredibly romantic fantasy, give The Curse Giver a try. I'm betting you might like it.
****
Dora Machado is the award-winning author of the epic fantasy Stonewiser series and her newest novel, The Curse Giver, available from Twilight Times Books. She grew up in the Dominican Republic, where she developed a fascination for writing and a taste for Merengue. After a lifetime of straddling such compelling but different worlds, fantasy is a natural fit to her stories. She lives in Florida with her husband and three very opinionated cats. To learn more about Dora Machado and her novels, visit her website at www.doramachado.com or contact her at Dora@doramachado.com. For a free excerpt of The Curse Giver, visit  http://twilighttimesbooks.com/TheCurseGiver_ch1.html.
Subscribe to her blog at http://www.doramachado.com/blog/, sign up for her at newsletter at http://doramachado.com/newsletter.php,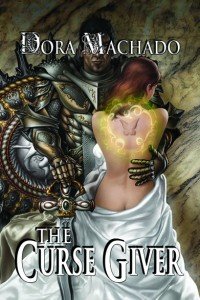 Buy Links:
Amazon: http://amzn.to/12AOH3Z
Barnes & Noble: http://bit.ly/16EbUzM
Romance eBooks: http://bit.ly/14TXNbC
Tags: Author interview, Book marketing, Book Promotion, Book review, Books, Creative writing; writing, Dark fantasy, Dora Machado, Dora Machado Interview, Epic fantasy, fantasy, Fantasy romance, love writing, Paranormal romance, readers, Reading, romance, romance writing, Romantic fantasy, Stonewiser, summer reading, The Creative Process, The Curse Giver, writers, Writing, writing blog