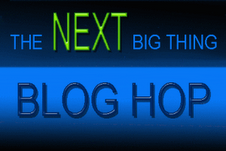 Have you ever heard about a Blog Hop? It's an interview of several authors at the same time. I just participated in one, so below are the answers regarding my new upcoming book, The Curse Giver. But what's so unique about a Blog Hop is that below my interview you can find links to the interviews of several other great authors whose books you might enjoy reading. Go ahead, check them out and have fun!
1) What is the working title of your next book?
The title of my next book is The Curse Giver, which will be out in June 2013. I'm so excited. I just can't wait!
2) Where did the idea come from for The Curse Giver?
I was researching my third book, Stonewiser: The Lament of the Stone, when I came across the notion of a curse. I got sidetracked there for a while, fascinated by the universal appeal of curses in human history, mythology and religion and its connection to our concepts of medicine, healing and power.
No doubt, influenced by my reading, I did something that I do a lot, even if it sounds cliché: I dreamed about a warrior, plagued by a powerful, malicious curse, fated to do terrible things to stay alive, and about the healer he must kill, the only woman with the power to heal more than his body, his heart.
3) What genre does your book fall under?
Fantasy, epic fantasy, dark fantasy, romance, paranormal romance.
4) Which actors would you choose to play your characters in the movie?
Is this a trick question? I think that every reader sees the character with his/her eyes. I would never take that awesome pleasure away from my favorite people in the world. I absolutely love it when readers email me and tell me that they think so-and-so should play the lead role in this book or that one. Guess what? My readers get to choose who plays the characters in their mind's movie.
5) What is the one sentence synopsis for your book?
An innocent woman condemned to die for a crime she didn't commit must ally with the cursed lord pledged to kill her in order to defeat the curse giver who has already conjured their ends.
Or, if you really want to get the scoop, here it is in a few more words, which tell so much more about the story:
An innocent remedy mixer condemned to die for a crime she didn't commit is rescued from the pyre by an embittered lord doomed by a mysterious curse. He's not her savior. On the contrary, her murder is his only salvation. Stalked by intrigue and confounded by forbidden passion, predator and prey must band together to defeat not only the vile curse obliterating their lives, but also the curse giver who has already conjured their ends.
6) Who will represent your book?
I'm so lucky! The Curse Giver is going to be published by Twilight Times Books, a wonderful independent publisher who specializes in critically acclaimed novels. http://twilighttimesbooks.com/TTBooks.html
7) How long did it take you to write the first draft of your manuscript?
I wrote the first half of the book in a month while I was on a skiing holiday in Colorado. I was working on The Lament of the Stone when The Curse Giver's story smashed into my head and wouldn't let go. So I put down what I had, went back and finished The Lament of the Stone, and then came back to The Curse Giver a few months later. All and all, it probably took me about three or four months to run through the first draft.
8) What other books would you compare this story to within your genre?
I think that if you like Robert Jordan, Brandon Sanderson, George R.R. Martin, Terry Goodkind, Marion Zimmer Bradley, Jacqueline Carey, Sharon Shinn, N.K Jemisin, and of course, the Stonewiser series, you'll enjoy reading The Curse Giver.
9) What inspired you to write this book?
My husband, who upon hearing about the concept told me that I had to hurry up and write the book, because he just had to meet the cursed Lord of Laonia.
10) What else about your book might pique the reader's interest?
There's a great deal of mythology in The Curse Giver, giving this world a unique and intriguing flavor.
There's also a lot of realism to the healing practices that are used by the main character, not just in terms of the ingredients she uses for her remedies, but also in terms of her practices, many of which are based on authentic medieval sources.
And finally, this is a fast-paced, plot twisting adventure that will keep you guessing all the way to the end, featuring complex characters that will warm your heart and leave you thinking about the tenuous, often tricky boundaries between love and hate, good and evil.
In the next few weeks I'll be blogging about the process of getting the book ready for publishing and unveiling the cover art. So please, do come back and stay in touch. And as always, thank you for allowing me the privilege of writing for you.
Dora Machado
Award winning Fantasy Author of the Stonewiser Series
Original fantasy for the extraordinary reader
[email protected]
www.doramachado.com
Follow me in Twitter and like me on Facebook
Powered by Linky Tools
Click here to continue exploring this Blog Hop!