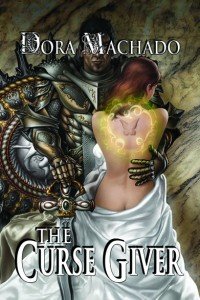 Hello everybody!
I'm delighted to share the good news below with all of you.
Thanks for sharing this moment with me.
Best regards,
D.
FOR IMMEDIATE RELEASE
June 30, 2014—The Foreword Reviews' IndieFab Book of the Year Awards, judged by a highly selective group of librarians and booksellers from around the country, were announced on June 27th, 2014 at the American Library Association Annual Conference in Las Vegas. The Curse Giver, written by Dora Machado and published by Twilight Times Books, won silver in the fantasy category. Ms. Machado, who lives Florida, is the author of the award-winning Stonewiser series. Her latest novel, The Curse Giver, is also a Finalist in the Fantasy category of the 2013 USA Best Book Awards.
Midwest Book Review praised The Curse Giver as follows:
"Lovers of dark romantic fantasy will relish The Curse Giver. This was a wonderfully entertaining, absorbing read. The stakes are high, the conflict compelling, and the sympathetic hero and heroine will make you fall in love with them. Lyric at times, Machado's prose flows beautifully throughout the pages, bringing to life her fictional world in full, vivid detail."
Ms. Machado adds the distinguished 2013 IndieFab Book of the Year Award to her growing list of credits, which also include the 2012 Independent Publisher (IPPY) Silver Medal for SF/F, the 2010 Independent Publisher (IPPY) Gold Medal for SF/F and the 2009 Benjamin Franklin Award for Best Debut Novel.
Foreword's IndieFab Book of the Year Awards program was created to discover distinctive books from the indie publishing community across a number of genres. What sets the awards apart is that final selections are made by real judges—working librarians and booksellers—based on their experience with patrons and customers. Representing hundreds of independent and university presses of all sizes, IndieFab winners were selected after months of editorial deliberation over more than 1,500 entries in 60 categories.
The editors and staff at Foreword Reviews love indie books and the art of great storytelling. They discover, curate, critique, and share reviews and feature articles exclusively on indie-publishing trends. Foreword Reviews' quarterly print magazine is distributed across the United States to librarians, booksellers, publishers, and avid readers, and is available at most Barnes & Noble, Books-A-Million, indie bookstores, and by subscription. Foreword's website features a daily stream of reviews of indie books written by a team of professional, objective writers.
For a full list of the winners searchable by category, publisher, title, and author, visit Foreword Reviews online.
****
Dora Machado is the award-winning author of the epic fantasy Stonewiser series and her newest novel, The Curse Giver, available from Twilight Times Books. She grew up in the Dominican Republic, where she developed a fascination for writing and a taste for Merengue. After a lifetime of straddling such compelling but different worlds, fantasy is a natural fit to her stories. When she is not writing fiction, Dora also writes features for Murder By Four, an award winning blog for readers and writers and Savvy Authors, where writers help writers. She lives in Florida with her indulgent husband and two very opinionated cats.
Author Contact Information:
E-mail:[email protected]
Website: www.doramachado.com
Blog: http://www.doramachado.com/blog/
Newsletter: http://doramachado.com/newsletter.php
Facebook: https://www.facebook.com/DoraMachado101
Twitter: https://twitter.com/DoraMachado
Publisher Contact Information:
Lida E. Quillen, Publisher
Email: [email protected] – or –
Website: http://www.twilighttimesbooks.com/
ForeWord Contact Information:
Contact: Jennifer Szunko, Director of Marketing/Circulation
Foreword Reviews [email protected] 231-933-3699
Tags: 2013 ForeWord Reviews, 2013 IndieFab Awards, Book Award, Book of the Year, Dora Machado, ForeWord Magazine, ForeWord Reviews, IndieFab Awards, The Best of Indie, The Curse Giver, The Curse Giver IndieFab Award, The Curse Giver IndieFab Silver, Twilight Times Books