Have you ever wondered what makes fantasy heroines real?
I do. All the time. Perhaps it's because I write fantasy. But I also read a lot of fantasy and I really appreciate a heroine who is powerful not because she's magical but rather because she's real.
Lusielle, the heroine in my latest novel, The Curse Giver from Twilight Times Books, turned out to be a remarkably "real" fantasy heroine. In hindsight, I really liked her and I wanted to learn more from the very character I created. I wondered what made her so compelling.
But first, let me tell you a little bit about Lusielle. In the novel, she's a powerful healer, on the run, accused of a crime she didn't commit. She's about to be burned for her crimes when the Lord of Laonia saves her from the pyre. He's not her savior. On the contrary, he's deadly to her. A mysterious curse giver has cast a virulent curse that can't be defused or defeated. The curse requires the Lord of Laonia to murder Lusielle in order to save his people from destruction. So this is how the story begins, with Lusielle wondering if she should help the bitter lord pledged to kill her and the Lord of Laonia set to kill the only woman who can heal more than his body—his soul.
One of the reasons Lusielle comes across so real in the story is that her passion for her occupation is very tangible. Practicing her craft lends her authority and, perhaps more importantly, many opportunities to grow and learn throughout the story. She takes her trade very seriously and so did I. All of the healing practices and ingredients that Lusielle uses in The Curse Giver are based on authentic medieval practices. Most of her potions' components come from historical sources. I think that the concrete elements of her practice make her more real to the reader, more credible and therefore more compelling.
Another important aspect to Lusielle's realism is that she's not perfect and she knows it. She works hard but things don't always go her way. She's made mistakes—a marriage without love that led to years of abuse and slavery, years that, by her own admission, she won't get back. And yet she's also resilient, capable of looking forward, able to dream a different life and willing to pursue it even when it entails breaking the rules and loving someone who is ultimately pledged to kill her.
Along those lines, relationships bring a solid sense of reality to Lusielle's story. Friendship is very important to her, and her often confusing feelings for the Lord of Laonia reflect the full gamut of the human emotions that are so familiar to all of us.
But I think that the elements that make Lusielle most real are her willingness to challenge her fears, her ability to learn from her experiences, and the confidence that she develops as she learns. Courage and learning go hand in hand. Sure, there's some powerful magic in the story, but ultimately it's Lusielle's knowledge, reason and awareness that make all the difference. See, I think heroines who learn, change and adapt throughout a story are not just cool, they're also real, because change is required of all of us in order to better our lives and we thrive only when we learn from our mistakes.
****
Dora Machado is the award-winning author of the epic fantasy Stonewiser series and her newest novel, The Curse Giver, available from Twilight Times Books. She grew up in the Dominican Republic, where she developed a fascination for writing and a taste for Merengue. After a lifetime of straddling such compelling but different worlds, fantasy is a natural fit to her stories. She lives in Florida with her husband and three very opinionated cats. To learn more about Dora Machado and her novels, visit her website at www.doramachado.com or contact her at [email protected].
For a free excerpt of The Curse Giver, visit  http://twilighttimesbooks.com/TheCurseGiver_ch1.html.
Subscribe to her blog at http://www.doramachado.com/blog/ or sign up for her at newsletter at http://doramachado.com/newsletter.php,
Find her on Facebook and Twitter.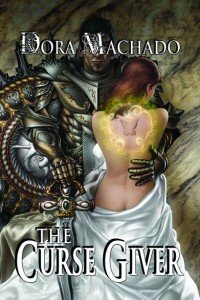 Amazon: http://amzn.to/12AOH3Z
Barnes & Noble: http://bit.ly/16EbUzM
All Romance eBooks: http://bit.ly/14TXNbC
Tags: Dark fantasy, Dora Machado, Epic fantasy, fantasy, Fantasy romance, love writing, Mystery writing, readers, Reading, romance, Romantic fantasy, Stonewiser, summer reading, The Creative Process, The Curse Giver, Writing, writing blog