Hello everyone!
My guest blogger today is the talented author of the award-winning Cassie Scot: ParaNormal Detective, Christine Amsden, who is celebrating the release of the second book of the Cassie Scot series, the much anticipated, Secrets and Lies. Publisher's Weekly praised Christine's new adult urban fantasy series: "In this entertaining series . . . Amsden introduces readers to the eponymous Cassie, a decidedly mundane member of a magical family. …Readers will enjoy Cassie's fish-out-of-water struggles as she fights magical threats with little more than experience and bravado." I really enjoyed Cassie Scot: ParaNormal Detective and I can't wait to get my hands on Secrets and Lies. Scroll to the bottom for a peek at this powerful story and help us drive it up to the top of Amazon's charts by buying it today and tomorrow, for only $3.99 at Amazon.
And now, find out why love is a verb.
Enjoy!
D.
****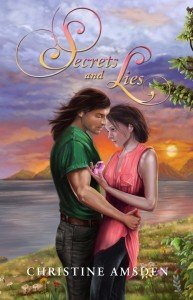 Love is a Verb
A Guest Blog
By
Christine Amsden
From our earliest pre-teen days, chatting about boys and wondering over the mystery that is romance, we've tried to define love. We've asked our girlfriends (who didn't know any better than we did), and our parents (who may also not have known). We watched TV and we read books. But it seems to mean something a little different to everyone, so what exactly is it?
I won't pretend like I know the answer better than the rest of you, but I've spent the past few years of my life writing a romantic series with one idea in mind: Love is a verb. I know – it's not a definition, it's a part of speech – but that's the best I've got.
Love is something you do. It's the act of loving, and it's a little different for everyone because we're all a little different. We want and need different things.
Love is a choice you make, every day. It's thinking of someone else's needs before your own, and considering their feelings as at least as important as yours. It's making a big sacrifice because what he needs is more important than what you want. It's about making little sacrifices just because, well, you may not like kale but he does so every once in a while you make it for dinner.
Chemistry is great. Aside from feeling good, it makes the choice to love someone a little bit easier. Good thing, too, because loving can be a difficult thing to do.
A lot of people say the words, but actions speak louder. That's why I get frustrated with romance novels that hinge on the utterance of those three magic words – you know which ones I mean.
Cassie Scot: ParaNormal Detective is the first book in a four-part fantasy series. Cassie is the only ungifted member of a magical family, trying to earn a living as a "normal" detective in a town where everyone knows her family's reputation. So of course, she's going to get pulled into a paranormal investigation.
Cassie is extremely attracted to powerful, sexy, and dangerous Evan Blackwood. Who wouldn't be? But will she choose to love him? After all, love is a verb.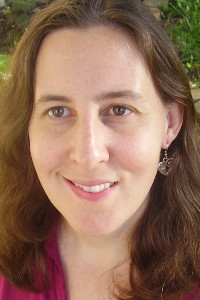 ****
About Christine Amsden
Christine Amsden has been writing fantasy and science fiction for as long as she can remember. She loves to write and it is her dream that others will be inspired by this love and by her stories. Speculative fiction is fun, magical, and imaginative but great speculative fiction is about real people defining themselves through extraordinary situations. Christine writes primarily about people and relationships, and it is in this way that she strives to make science fiction and fantasy meaningful for everyone.
At the age of 16, Christine was diagnosed with Stargardt's Disease, a condition that effects the retina and causes a loss of central vision. She is now legally blind, but has not let this slow her down or get in the way of her dreams.
In addition to writing, Christine teaches workshops on writing at Savvy Authors. She also does some freelance editing work.
Christine currently lives in the Kansas City area with her husband, Austin, who has been her biggest fan and the key to her success. They have two beautiful children.
Contact Christine by clicking on any of these links: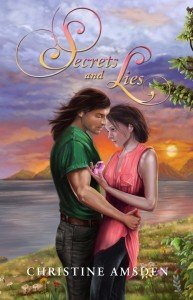 About Secret and Lies
In the first book of the Cassie Scot Series, Cassie Scot: ParaNormal Detective, we learned that Cassie Scot was the ungifted daughter of powerful sorcerers, born between worlds but belonging to neither. At 21, all she wanted was to find a place for herself, but earning a living as a private investigator in the shadow of her family's reputation didn't come easy. When she was pulled into a paranormal investigation, and tempted by a powerful and handsome sorcerer, she had to decide where she truly belonged.
Now, in the newly released sequel, Secrets and Lies, Cassie Scot, still stinging from her parents' betrayal, wants out of the magical world. But it isn't letting her go. Her family is falling apart and despite everything, it looks like she may be the only one who can save them.
To complicate matters, Cassie owes Evan her life, making it difficult for her to deny him anything he really wants. And he wants her. Sparks fly when they team up to find two girls missing from summer camp, but long-buried secrets may ruin their hopes for happiness.
****
Want more? How about a sneak peek at the first chapter?
http://christineamsden.com/wordpress/?page_id=2472
"Amsden continues the story of the only mundane member of a supernaturally-gifted family in this middling sequel to Cassie Scot: ParaNormal Detective. Cassie, stubborn and proud, is bravely trying to live on her own after her family disowns her. Struggling to make ends meet, she accepts a case involving a pair of magical girls who disappeared from summer camp. With the aid of the handsome Evan Blackwood, to whom Cassie is attracted despite her family's disapproval and her own better judgment, she follows the trail of the missing girls. What she finds is a dark side of the magical world, and the hidden depths of her family's past force her to reconsider long-held assumptions. The growing complexity of Cassie's world makes this an entertaining installment, focusing as much on the will-they, won't-they romantic chemistry between Cassie and Evan as on the primary mystery. An inconclusive ending is clearly intended to feed into the next volume."
Publisher's Weekly
"When sorcerers call the shots, what's a girl without powers to do? Get ready for a ripper of a murder mystery full of romance and intrigue, where magic potions bubble, passions spark and vampires are definitely not your friend. Cassie Scot: ParaNormal Detective grabs you by the heart and won't let go until the very last page. Well written, immersive and unputdownable. This is urban fantasy at its best. More please!"
Kim Falconer, bestselling author of The Spell of Rosette, Quantum Enchantment Series.
"Christine Amsden unleashes her brilliant storytelling magic as the adventures of Cassie Scot
escalate to the extreme. Rife with betrayal and a debt too deep for money to clear, Secrets and Lies plunges the reader into an utterly believable world where villains and heroes spring lifelike from the pages. Brace for a whirlwind ride of sorcery, romance and knife-edge peril. A truly original urban fantasy. Not to be missed!"
Kim Falconer, bestselling author of The Spell of Rosette, Quantum Enchantment Series
Help us drive it up to the top of Amazon's charts by buying it today November 18, and tomorrow, November 19, 2013, for only $3.99 at Amazon.