Archive for October, 2013
Monday, October 28th, 2013

As many of you know, I'm a sucker for a great romance. My guest today is Aaron Paul Lazar, who is celebrating the release of his heart-warming romance, The Seacrest. The Seacrest has been compared to Nicholas Spark's evoking novels. Warren Adler, bestselling author of The War of the Roses and Random Hearts, says that "The abiding power of a first love resonates throughout this compelling story of loss and redemption." I can't wait to read The Seacrest! Scroll to the bottom for a peek at this powerful story and help us drive it up to the top of Amazon's charts by buying it today at http://amzn.to/16pjh4i.
And now, some very wise words of wisdom for new writers everywhere.
Enjoy!
D.
****
Quit Your Job?
Maybe not just yet.
Words of Wisdom for New Writers
By
Aaron Paul Lazar
(Who really, really knows what he's talking about!)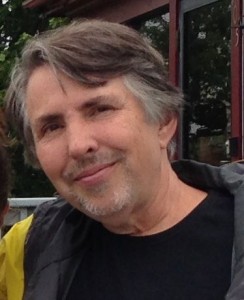 The stages through which writers suffer in their careers are unique compared to most professions. Yet, strangely enough, these experiences can be startlingly similar from one writer to the next.
I'm reminded of this as yet another talented new writer has "found" me through the Internet and turned to me for advice. We've been exchanging regular email, and have covered questions from copyright to agents to query letters and beyond. I believe in helping writers whenever possible, and always try to make time for them when I can.
Why?
Because that's what S.W. Vaughn, R.C. Burdick, Mary Emmons, and other generous folks did for me when I was just starting out.
I remember it so clearly. The angst-riddled beginning: when I'd just turned out my first novel and imagined it on the best seller's list. I secretly hoped it would be snapped up in a few weeks, but feared at the same time how deluded I probably was, and feared I would be outed by the critics as a poor untalented slob who would never get into that elite club of "real writers." Even though my family and friends said they loved my books… they had to say that? Right?
Time passes. More books are written. Agents get interested. Skills improve. And among the piles of rejections and torn hair and crumpled rewritten query letters, books eventually get sold. Maybe not to the big boys in the top five companies with all the promotional money, maybe not through agents who finagle six figure deals, but stuff happens and one's readership expands.
People write to you from out of the blue. Regular people. Lovely people. People you befriend and learn from and cherish. People who say they've changed the way they read to their children because of your book, or who tell you they read to their dying mother and that your book comforted her. Those moments are supremely satisfying. And humbling. And so precious.
The first review comes in from a high profile literary critic. This one comes out of the woodwork, without solicitation. And he praises your work like you've never dared imagine. He GETS you. He really GETS you. And for the first time in your career, you feel totally validated. I'll never forget that first time. His name was Thomas Fortenberry, and I remember the email, word for word. I opened it early on a dark Sunday morning–before dawn–and I lay in bed with the laptop humming with tears of joy on my cheeks.
It floats you to the moon, and validates you, and keeps you going. Until, of course, someone dares criticize your work. Of course, eventually it will happen, whether it's a minor critique or a full blown trashing. You can't make adoring fans out of everyone!
But thankfully, the really bad review ends up being written by someone with a humongous grudge on your first publisher. Someone who makes it his first order of business to drag down authors from that company. So, the sting lessens. A little.
The first book signing comes and goes. Becomes a frequent event. Book clubs contact you–and you get to meet gangs of your adoring fans. It feels good. Really good.
Maybe it's a sign that you don't really stink as bad as you fear? (see, that angst still hangs around for years and years.)
Libraries contact you for event after event. And suddenly–here you are, having to turn down events you only dreamed of as a novice.
It's rather strange, and equally wonderful. And so the story continues.
Coming fresh from dispensing advice to my new friend, I've jotted down a few thoughts to share. Words of wisdom, I guess you could say, or at least philosophies that seem to work for me. Here they are, in no particular order:
1) Keep writing, independent of which agent or publisher you have in your sights or in hand. Write as many books as you possibly can, and grow your skills as you grow your stable of books.
2) Improve your current proficiency–continually–by befriending a few good critique partners and by reading as much as you possibly can. Great writers will be your best teachers.
3) Don't quit the day job unless you have the luxury of doing so financially. Plan to work indefinitely until you've sold over 100,000 copies of your first book. Really. I'm serious. (which means most of us will keep the day jobs forever) Then, wait to see if your second book flops or follows the trend of the first. There are plenty of one hit wonders out there! After two "A" movies have been made (I'm picturing about a half a million for each), then you can consider quitting the day job. That is, if you're good with money and feel as if you can keep churning out books for a very long time. Remember, if you're–say fifty years old–you might need to support yourself (and maybe your spouse) for another fifty years. You'd need several million to keep yourself going at a reasonable income level for that long. So don't quit the day job yet!
4) While you're waiting for this elusive financial success, and you're writing book after book, submit your manuscript and queries to all levels of publishers, but only to the top agents in NYC. (my humble opinion) Consider a small high quality press to get started, especially if the big publishers haven't snapped you up in the first year, or five.
5) Don't define your success as a writer by how many books you sell or how fast your novel(s) get picked up. Or even IF they get picked up. Define your success by the readers you win over, whose lives you may even change as a result of your writing. Cherish their comments, and realize that if you can make one person smile, or brighten their day, or give them an armchair adventure that whisks them away from their troubles – then THAT may be worth it, and all you need to be validated.
6) Although it takes time away from your writing, build a strong, genuine network of writers with whom you can share, grow, learn, gripe, vent, and just share the common angst and jubilation that comes with this long process. Do the same with your readers who fall in love with your book(s) and are willing to help you along the way.
7) Start on the next book before the first is accepted anywhere. Don't look back. Keep going and follow your heart.
8) You must believe it "will" happen. It's just a matter of time. Although my books provide a nice subsidy at this point in my career, I firmly believe that some day my books will sell enough copies through my high quality small press (Twilight Times Books) to catch the attention of a movie maker or giant publisher with deep pockets. And now, with my new love story just released, I'm picturing the film for The Seacrest in full living color. ;o) And I know, I believe, I see in the future–eventually–that both of my series will some day be commonly found across the globe. Maybe it'll be when I'm dead and gone, and perhaps my grandkids or great grandkids will benefit. That would be just fine with me!
About Aaron Paul Lazar
Aaron Paul Lazar writes to soothe his soul. An award-winning, bestselling Kindle author of three addictive mystery series, writing books, and a new love story, Aaron enjoys the Genesee Valley countryside in upstate New York, where his characters embrace life, play with their dogs and grandkids, grow sumptuous gardens, and chase bad guys. Visit his website at http://www.lazarbooks.com and watch for his upcoming releases THE SEACREST (2013), SANCTUARY (2014), and VIRTUOSO (2014).
ONLINE LINKS: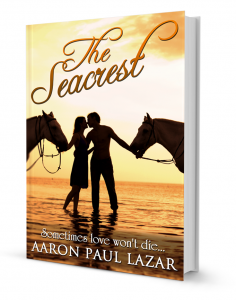 http://amzn.to/16pjh4i
All About The Seacrest:
They say it's better to have loved and lost than never to have loved at all.
Finn McGraw disagrees.
He was just seventeen when he had a torrid summer affair with the girl who stole his heart—and then inexplicably turned on him. Finn may have moved on with his life, but he's never forgotten her.
Now, ten years later, he's got more than his lost love to worry about. A horrific accident turns his life upside down, resurrecting the ghosts of his long-dead family and taking the lives of the few people he has left.
Finn always believed his estranged brother was responsible for the fire that killed their family—but an unexpected inheritance with a mystery attached throws everything he knows into doubt.
And on top of that, the beguiling daughter of his wealthy employer has secrets of her own. But the closer he gets, the harder she pushes him away.
The Seacrest is a story of intrigue and betrayal, of secrets and second chances—and above all, of a love that never dies.
****
Want to know more? How about a sneak peek at the first chapter? http://www.lazarbooks.com/theseacrest.htm
"The Seacrest is a poignant love story that will have you reaching for the tissues. Every woman needs a Finn McGraw!" – Victoria Howard, bestselling romantic suspense author of RING OF LIES.
"At a time when many authors seem to crank out fiction by the numbers, Aaron Paul Lazar invests his whole heart in every book he writes. His stories shine with sensitivity, compassion, and the richness of deeply personal experience." – Michael Prescott, bestselling thriller author of GRAVE OF ANGELS
"…Beautifully drawn, The Seacrest explores twin mysteries of past and present tragedies that combine into a fascinating tale in which a young couple overcomes life's misunderstandings, while reaching for the truth."  – Sheila Deeth, author of Divide by Zero
Help us drive THE SEACREST to Amazon's top rankings by purchasing it today, Monday, October 28th at http://amzn.to/16pjh4i.