Stay connected with Dora: Newsletter | Twitter | Facebook
Welcome to Dora Machado's Worlds.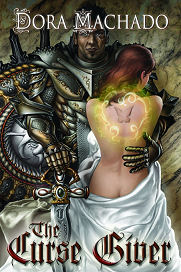 The Curse Giver
---
A healer on the run. A condemned lord pledged to kill her. A land torn apart by war and intrigue. A terrible curse that can't be revoked, defused, or defeated. Dare to meet the curse giver.
A fast-paced, plot-twisting fantasy packed with powerful characters who will challenge the tenuous boundaries between love and hate, good and evil, justice and revenge.
Learn More About The Curse Giver
Coming This Summer, from Twilight Times Books
More from Dora Machado
The Stonewiser Series
What would happen to our world if our history was erased? What would our world be like without books or without the internet? Without the history and assurances that those sources provide? What would happen to our sense of self, to our culture, to our institutions, if we didn't have any reliable way to trace our past?
Awards and Recognition
Winner of the 2009 Benjamin Franklin Award for Best Debut Novel
Finalist for the 2009 ForeWord Book of the Year Award for Science Fiction and Fantasy
Winner of the 2010 Independent Publisher (IPPY) Gold Medal for SF/F
Finalist for the 2010 ForeWord Book of the Year Award for SF/F
Dora Machado is the author of the award-winning Stonewiser series, which tells the story of Sariah, a powerful stonewiser who can imprint and retrieve tales stored in rock, the only thing that can withstand the rot destroying her world. But even the stones aren't telling her the whole truth anymore...
"Stonewiser is a finely crafted fantasy with unique concepts, and a vivid living world that will draw readers in and not let go." – Midwest Book Review
"Machado's descriptions are rich in detail – you'll feel the eels nipping at your toes – and her characterization is strong. Sariah is well developed and faces brutal conflicts in this story of adventure, politics and magic." – Romantic Times
"Once in a while, a new fantasy/adventure comes out that doesn't travel well-worn paths in the genre but instead gives us a vivid new world, an exciting set of original characters, and page after page of non-stop intrigue, action, twists, revelation, and fun. STONEWISER is the best to appear in years." – A BN.com reviewer
About Dora Machado

Dora Machado is the award winning author of the epic fantasy Stonewiser series. She was born in Michigan and grew up in the Dominican Republic, where she developed a bilingual fascination for writing, a preference for history, and a taste for Merengue. After a lifetime of straddling such compelling but different worlds...
---